Being a resident of the countryside, small/large town, or living in the centre of the city; possums can come to your place without any invitation. Possums are always in hunt of dark, safe and sound places with plenty of food. Therefore, they keep on loitering here and there. Though possums are good climbers and hiders therefore, they come to your place and hide under decks, rooftops, lawns, backyards, staircases, vent pipes, chimney holes, and much more dark places where there is less movement. They come out when no movement is acknowledged.
Therefore, getting rid of possums at the right time in the right way is a tedious task. Hiring a professional with well-equipped tools and techniques can ease your job. Possums are a great threat to human life. They keep on spreading feces and urine around the place which at last mix up with the air we inhale inside our property.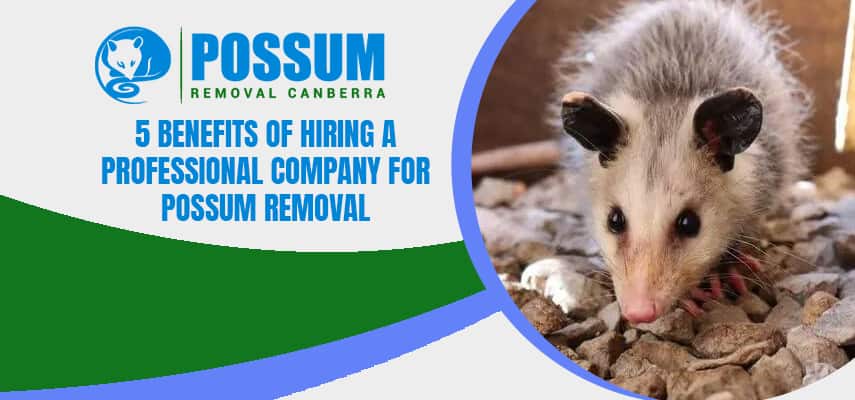 Here are the 5 benefits of hiring a professional company for possum removal:
1. Save Time
Possums are well known for their naughty behaviour. Trapping them on your own could be time-consuming. Moreover, while trapping possums you may get hurt. Therefore, it may affect your health. Henceforth, hiring a professional possum removal and relocation team to trap and relocate the possum is the best thing that you can do.
2. Quality Service
Possums are clever creatures. Whenever they acknowledge the darkness and no movement in and around the place, they come out of the hidden place in hunt of the food. Therefore, they make a strange noise, which might keep you disturbed the whole night. But you won't be able to acknowledge that from where they should be coming. This can be a frightful thing to confront. Therefore, in the morning when you see a mess in the kitchen or your upholstery is torn/ scratched then it is the right time to call the professionals to help you out.
Experts are well known for their quality service and they know what type of methodology should be used to catch the possum easily and on time so that further damage can be prevented. Therefore, to remove possums easily, it is important to hire professionals.
3. Hassle-Free Work Done
Crazy creatures are not welcomed by anyone. But, if possums have entered your place then they can turn your soothing place into a mess. Therefore, trapping and relocating them at the right time is important. Trapping the possum on your own could be a great struggle for you. Hence, you may hire professionals to ease your task.
Professionals are well-learned and trained to do their job effectively. Moreover, the professionals have authorization from the government that they are good at their job and can help you in the best possible way. Professionals do the job hassle free.
4. Save Money
Generally, possum removal companies provide reasonable costs for their services. Their main focus is to value your money, safety, and time and hence provide you with effective service. Therefore, they reach the assigned place on time and trap and relocate the possum before it's too late. They believe in customer satisfaction. Therefore, valuable guaranteed results can be seen when the job is done by professionals.
It is always advisable to hire a professional for the possum removal instead of doing this task on your own. In case you might have planned to do this task of trapping and relocating the possum on your own, then you might get panicked about the number of equipment that you have to purchase for its relocation, and they are expensive too. Thus, to save money, among the 5 benefits of hiring a professional company for possum removal, money would always be considered.
5. Prevent Further Mishappening
As we are well aware of the fact that once possums enter your property, they bring chaos to the place. In case a possum has once entered your place then it is crucial to prevent its further entrance. Animals like a possum, rats, raccoons, mice, and squirrels are notorious creatures that are well-known for their intelligence. Therefore, you are fond of creating trouble. Once they enter the property, they keep on moving around in the hunt for food, scratching over the upholstery, and much more. Moreover, they are good climbers. Henceforth, it is easy for them to enter your place.
Hiring a professional can ease your job. No doubt that possums have entered your place, but professionals will not only trap and relocate them but also seal all the entry points so that no further mishap can take place. Well-trained professionals are trained to do their job seriously. Hiring them gives you a permanent solution.
Conclusion
The professional team can provide you with a great level of satisfaction and peace of mind. Experts know the right way to make things work out for you. Their keen inspection of your property can help you from further mishappening. You may call them whenever you feel suspicious about the presence of the possum. The above-mentioned 5 benefits of hiring a professional team for possum removal are the best reasons to know why you should hire professionals. You may ping the possum removal experts present near you at the time of your need.